The USPS Form 1583 is required by the US Postal Service, for anyone who wants a mailbox in the United States. It is confusing and ambiguous, but it must be filled out correctly. Failing to fill out the USPS Form 1583 correctly, or providing false information, can lead to mail not being delivered, the mailbox being cancelled, or worse.
THIS ARTICLE IS OLD: This articles explains how to fill out USPS Form 1583 prior to the update in Aug-2023. Click here to see the new instructions for the new USPS Form 1583 (v2023).
Initial Concerns
It's important you understand the following, before filling out USPS Form 1583:
You are required to notarize and sign it twice.
You must send the two originals to the CMRA (that's us, and here's our address).
We are required by the USPS to give the original Form 1583 to them.
A new Form 1583 is required, if ANY CHANGES are made to the form or your circumstances.
You must provide us with TWO forms of valid ID, and the name and addresses must match what you put on Form 1583 (if they don't, please contact us so we can instruct you on options).
A Form 1583 is required for EACH MAIL RECIPIENT, unless husband and wife. Therefore, if you want more than one company to use the virtual mailbox, then you will need to fill out a Form 1583 for each company using the virtual mailbox.
Not that our default virtual mailbox permits up to TWO RECIPIENTS. If you want more, you will need a plan to support it.
Step 1: Reference Our Color-Coded Mockup of Form 1583
Because Form 1583 is so confusing, we put together a color-coded mockup of Form 1583 to help guide you. Please click on the colorful image on the right, and we'll reference it throughout this document in an attempt to explain the various sections and what you need to do to properly fill it out.
Step 2: How to Fill Out Form 1583
Our systems and staff will have filled out a significant portion of the Form 1583, based on the information you've provided us. If this information isn't correct, or there is no information contained within the Form 1583 we sent you, please contact us so we can issue you a new Form 1583.
What you need to do, is fill out the following:
Box 1: Should contain today's date in the top-right of Form 1583.
Mail Recipient. The LIGHT-BLUE shaded area represents where you put the NAME OF THE MAIL RECIPIENT. If this virtual mailbox is for an individual, put the full legal name of the individual. If this virtual mailbox is for a company, put the full legal name of the company.
Ignore. You can ignore the RED shaded area. That information relates to us, and the address of your virtual mailbox.
Restricted Delivery Authorization. Box 5 must be signed. It can be signed during (or before) the Notary. DO NOT SIGN the other yellow shaded area — Box 16 — you must do that in front of a Notary.
Applicant. The GREEN shaded area represents YOU, the person applying for the virtual mailbox. It doesn't matter whether this will be owned by a company, or is for a company. The FULL LEGAL NAME of you, the applicant, must be placed in Box 6, and your full home address must be placed in Boxes 7(a) through 7(d) with your phone number placed in Box 7(e). The information you put here, must match the ID's you submit for the PURPLE shaded area.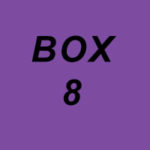 Identification (ID). You must indicate the two forms of valid ID you are using for Form 1583. For example, if you're submitting a Drivers License, put "Drivers License: NM 1234567", if your Drivers License was from New Mexico, and the number was "1234567". The form of ID and the number must be put in this Box 8. Please scroll down to see what forms of ID are valid. You must make clear copies or scans of these ID's, and submit them to us along with your Form 1583. The first ID must be a picture ID, and both ID's must contain your address which must match what you put in Boxes 7(a) through 7(d).
Company Information. If you will be running a business out of this virtual mailbox, then you need to put that information here. A good rule-of-thumb is if you put a company name in the LIGHT-BLUE shaded area for Box 2, then that company needs to be identified here in Box 9. If you are using this virtual mailbox for an Anonymous LLC, you MUST put that company name here in Box 9.
Boxes 10(a) through 10(e): WHERE TO DELIVER THE MAIL? We will deliver your mail to the address you indicate in these boxes, unless they are blank and if so, then we will deliver your mail to the address listed in Boxes 7(a) through 7(d) in the GREEN shaded area. If you ever want to change the address where we send your mail, you will be required to fill out a new Form 1583. Note this information is only used by us and the USPS, and it is confidential and not made publicly available.
Box 11: Indicate at a high-level, what your business does or is about. "Real estate holding company" is fine if that's what it does, or "Internet sales" is fine too.
Box 12: OWNER RECIPIENTS? If you have a COMPANY listed in Box 2, and therefore Box 9, and you want one or more of the owners to be able to receive mail at this virtual mailbox, then this means you want additional recipients. Put their name(s) here. Please note that our virtual mailbox provides for 2 recipients (and your company is one), so you can only have one more owner's name here unless you have a virtual mailbox plan that permits more recipients. Also, each name here will ALSO have to provide TWO FORMS OF ID, unless the name here is the applicant, as identified in Box 6 above.
Box 13: CORPORATION? If your company is a CORPORATION, then you must indicate the names and addresses of all the officers. ID is NOT required for the officers.
Box 14: WHERE IS COMPANY FORMED? If you have a COMPANY listed in Box 2, and therefore Box 9, must indicate the County and State where it was formed, as well as the Formation Date. We will fill this out for you, but please double-check the information and let us know if we made a mistake or you have questions.
Sign in Front of Notary. This final Box 16 must be signed in front of a Notary. Please see next Step 3 on Notary options and how to get the final Form 1583 sent to us.
Totally confused or frustrated? Don't be. We have samples below you can use to help you. You can also contact us if you need help or have questions.
Step 3: Notarizing & Sending Form 1583
Once you have filled out Form 1583 completely, as instructed above, you need to get TWO COPIES NOTARIZED. If you ordered the Online Notary Service from us, use the link we provided you when we sent you the Form 1583, to get your Form 1583 notarized.
If you did not purchase the Online Notary Service from us, you can print and notarize locally (within the US)
If you don't want to use an online Notary service, you can use a standard notary near you. Of course, you can search Google for notary near me, or you can go to a local bank, the courthouse, or your company may even have a notary in accounting.
Make sure you PRINT TWO COPIES of Form 1583, and have them BOTH NOTARIZED. You want to bring the SAME ID's that you indicated in Box 8.
Make sure you have the notary sign Box 15, and you sign Box 16 in front of the Notary. MAKE SURE YOU DO NOT SIGN BOX 16 BEFORE YOU SEE THE NOTARY.
Once you have TWO NOTARIZED FORM 1583's, please mail them to us. You can send them First Class postage, or overnight delivery.
Please mail TWO notarized Form 1583 to:
Law 4 Small Business, P.C.
6801 Jefferson St. NE, Ste. 620
Albuquerque, NM 87109
Attn: Virtual Mailbox Admin
Print & Notarize (Outside the US)
If you are located outside the United States, there really is no different process to follow from above. However, depending on what country you are in, you could have some difficulty finding a notary. The US consulate and many embassies (even non-US embassies) will have notary services for the public. You may want to try a bank, too.
Valid Forms of Identification (ID's)
Make sure to read the the forms of ID listed in Box 8. You will need to submit two forms of valid ID for the Applicant listed in Box 6, which must match the address listed in Boxes 7(a) through 7(d). If you have any individuals listed in Box 12, you will also need to provide two forms of valid ID for those individuals.
IMPORTANT: At least one of the ID's submitted must contain a photograph.
Acceptable forms of ID's include:
Current and valid driver's license or state non-driver's identification card
Armed Forces, Government, or University ID
Recognized Corporate ID
Passport, Alien Registration Card, or Certificate of Naturalization
Current Lease, Mortgage, or Deed of Trust
Voter or Vehicle Registration Card
Vehicle or Home Insurance Policy
Social security cards, credit cards, and birth certificates are not acceptable forms of identification.
Sample Form 1583's
Want to see what a properly filled out Form 1583 looks like? Here are some samples for your review.
Sample 1: An Individual as the Mail Recipient
In this example, John Doe is the individual who is ordering a virtual mailbox service. His mailbox address is in Box 3, and we'll forward his mail to the address listed in Box 7.
Sample 2: A Married Couple, Both as Mail Recipients
In this example, John Doe and Jane Doe are married. They BOTH need to sign in Box 5, and they both need to list and provide identification, as identified in Box 8. Mail will be forwarded to the address in Box 7.
Sample 3: A Typical Company, Along with the Owner, as the Mail Recipient
In this example, John Doe is ordering a virtual mailbox service for his company, Acme Company. Because this is for a company, we have to put the company name in both Box 2 & 9. Because there is an address in Box 10, that's where we'll send the mail. In this case, John Doe also expects to receive mail (aside from mail addressed to the company), and therefore John has put his name in Box 12. Because this is a corporation, John needed to list all the names and addresses of the officers of the corporation, which you'll see in Box 13 (note we do NOT need the ID's for the officers).
Finally, because this is a company that is registered, we must indicate the relevant information in Box 14. Assume the "county" is the capital of the state where formed.
Sample 4: A Parent/Child Anonymous LLC, Both as the Mail Recipient
In this example, we actually have TWO COMPANIES, and therefore we need TWO Form 1583's, one for each company. The form is nearly identical, but you need to change the relevant information as appropriate for each company.
The Parent LLC is an Anonymous LLC holding company formed out of New Mexico, which owns the Child LLC operating company formed out of Florida.
For this example, there is no company address in Box 10, because we want mail forwarded to the home address of John Doe. If there is no address for the company address in Box 10, we'll then use the address in Box 7. In both forms, we indicate that John Doe may receive mail as an individual to this mailbox. This means there are THREE MAIL RECIPIENTS for this example: (1) The Parent, holding Anonymous LLC in New Mexico, called John's Holding Enterprises, LLC; (2) The Child, operating Florida LLC, called John's Property Management, LLC; and (3) John Doe himself.
We do not need to list officers, because this is a LLC not a corporation. We do, however, need to indicate the formation information in Box 14.
Still Confused? Need More Help?
We're just a phone call away. Please contact us.
See if there are any other articles that can answer your questions in our knowledge-base.